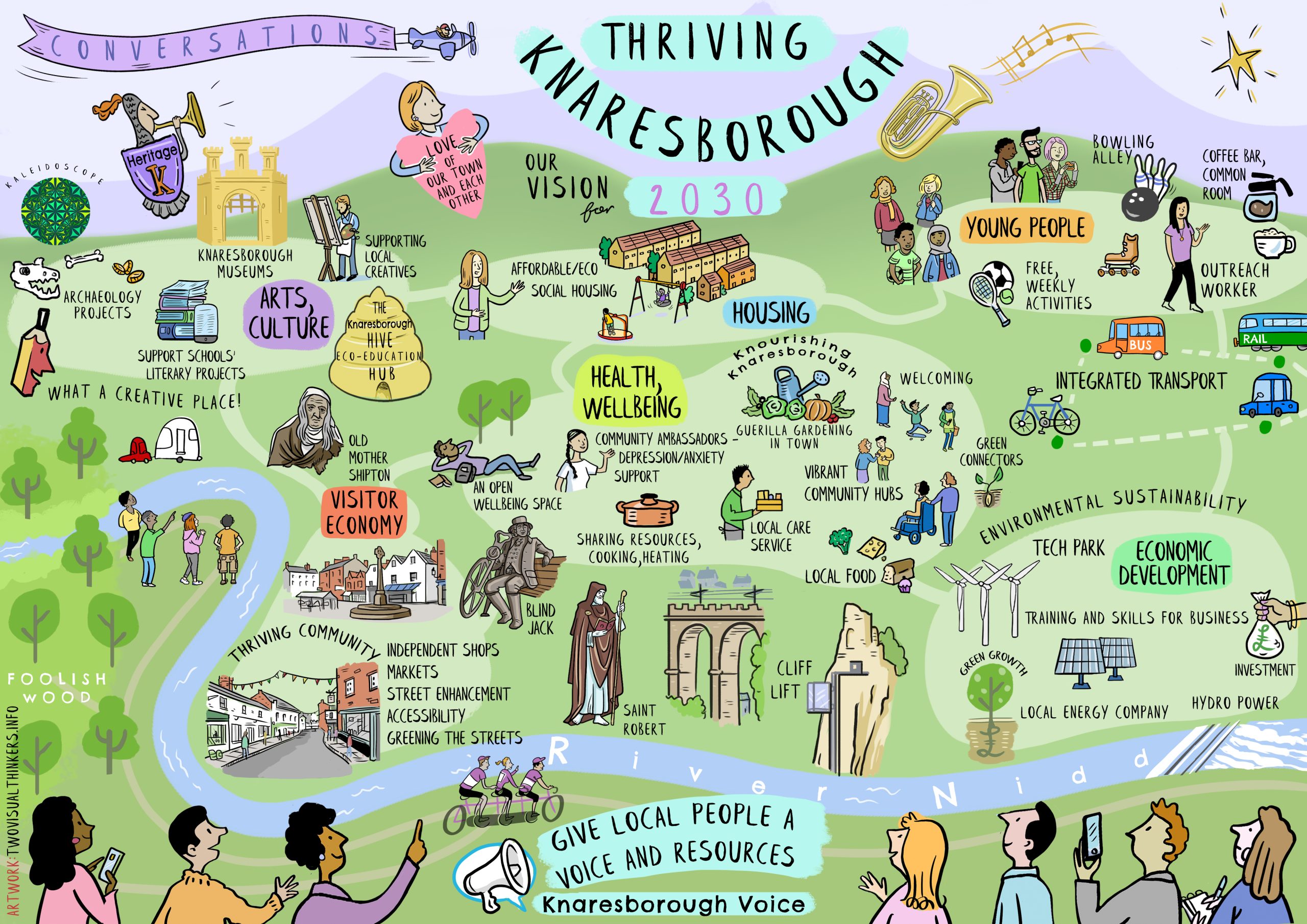 Wider Community Activities
Chain Lane Community Hub is a key stakeholder in Knaresborough. We are contributing to the opportunities and challenges of the impact of Council devolution and other economic and political situations that influence the external environment. Working with partners we contribute our time, skills, knowledge and networks for the benefit of the town and its surrounding villages. We aim to provide:

a vehicle for local voices to be heard

a platform for community development promoting cohesion whilst respecting diversity

a home for the community sector which is supportive of the growth and development of community groups

a means of promoting community led enterprise, generating independent income whilst having a positive social, economic and environmental impact

a forum for dialogue within communities, creating and contributing to community led solutions

a bridge between communities and the state which promotes and brings about social change
Wider Community Activities
Knaresborough Voice
Knaresborough Voice is a collaboration of local community groups lead by Knaresborough Connectors and Chain Lane Community Hub.
Started by a group of community leaders during the pandemic it aims to bring together groups from across the town to explore how we can work together to create a vision for the town and then bring the vision to fruition. We have so far undertaken
Survey work with residents
One to one meetings with 18 key community groups
Polis conversations on "Life in Knaresborough", "Twenties Plenty" and "Mental Well-being after Covid"
Polis runs anonymous online conversations and has been used by the Government's Policy Lab, as well as more famously in Taiwan, to understand what large groups of people think in their own words, enabled by advanced statistics and machine learning. Social media creates polarising views and echo chambers. Polis is different. It is our Mission to facilitate better conversations, to unearth the best ideas in our town and to build consensus around these ideas. At Knaresborough Voice, we have partnered with the Crowd Wisdom Project to deliver for our town.
Group work has also been established and we currently exploring the following subjects:
Youth provision
Community buildings
Heritage
Health and Wellbeing
Access and Connectivity
Environment and biodiversity
Frailty
Arts and Culture
The Knaresborough Voice group of local community organisations are working on how to respond to the findings of this work.  If you have a subject you'd like the town to have a conversation about, or want to be part of the response, then please get in touch with us via info@chainlane.org or peter.lacey8@icloud.com
To find out more visit https://www.knaresboroughvoice.org.uk/
Emergency Response
We are proud to be part of Knaresborough Emergency Response Team.
Chain Lane Community Centre will be available if required to support our community
Community Development
We have a key role in supporting organisations to fulfil their objectives. Recent activities have included:
Providing space for groups to fundraise, a local group recently raised £500 for St Michaels Hospice through a coffee morning in our Wharfe Room
We are currently providing space for Knaresborough Feva to renovate the beautiful Trompe-l'œil paintings that will be decorate the town through the Summer
We use our networks and connections to make things happen in the town, recent examples include work with the Knaresborough Museum Association supporting them to move forward following recent setbacks, providing a home for local volunteer led organisations such as Knaresborough Relief in Need and the Project Linus projectlinus.uk.uk
Knaresborough Together – Volunteering
Building on the legacy of volunteering in the town through the pandemic, we are compiling a database of community activists, volunteers and helpers. This is made up of current volunteers and those who may wish to be linked to volunteering opportunities in the future.
Volunteering is proved to create feeleings of well-being. People have many motivations for volunteering and we can accommodate them all. You may want to
Give something back to your community
Learn new skills
Make friendships and connections
Feel more engaged with the community
Groups can contact us to tell us what they need and we can then reach out to people on the mailing list to offer opportunities to them. There's no obligation, but there may just be an activity that comes up that you would really like to be involved in.
Please complete our short form to register and we'll handle the rest